Summer Sunshine: My Must-Haves This Season
Now that we're well into summer, I'm reflecting on my style theme this season: things that evoke happiness. I must say, I live by themes! I am here for the holidays, the festivals, the celebrations—give me them all! As per tradition, I'm rounding up my favorite finds this season:
Shein Dress
I've been running around town in this yellow dress by Shein. For summer, the more flowy the dress, the better! Recently, I went to visit my family in Yonkers sporting this number out again and added a leather belt to accessorize. Best of all, everything from Shein is super affordable (use my code GREIVYQ2 to save 15% off your purchase).
Bijour Minimalism Ring & Sequin Gemini Stargazer Necklace
If you know me, you know that I'm far from a minimalist, but that's actually the style name of my favorite ring by Bijour. It's made with a freshwater pearl, which is my June birthstone. That brings me to the next piece of jewelry that I'm wearing here: the Gemini Stargazer 22K gold-plated necklace by Sequin. I love the fine details of this piece and its eye-catching sculpted look.
Skeem Design Citronella Verbena Body Spray
This past winter, I was introduced to lifestyle Skeem design, a cool indie boutique brand. They are known for their line of beautiful citronella candles, incense burners, and body balms that are an absolute delight. I'm currently loving the Citronella Verbena Body Spray—it smells wonderful and keeps bugs away, too! It's all natural, made without any chemicals or DEET. I try to carry a bottle with me at all times and even keep one in my car. My kids and nieces love it and don't mind me spraying them every so often as needed!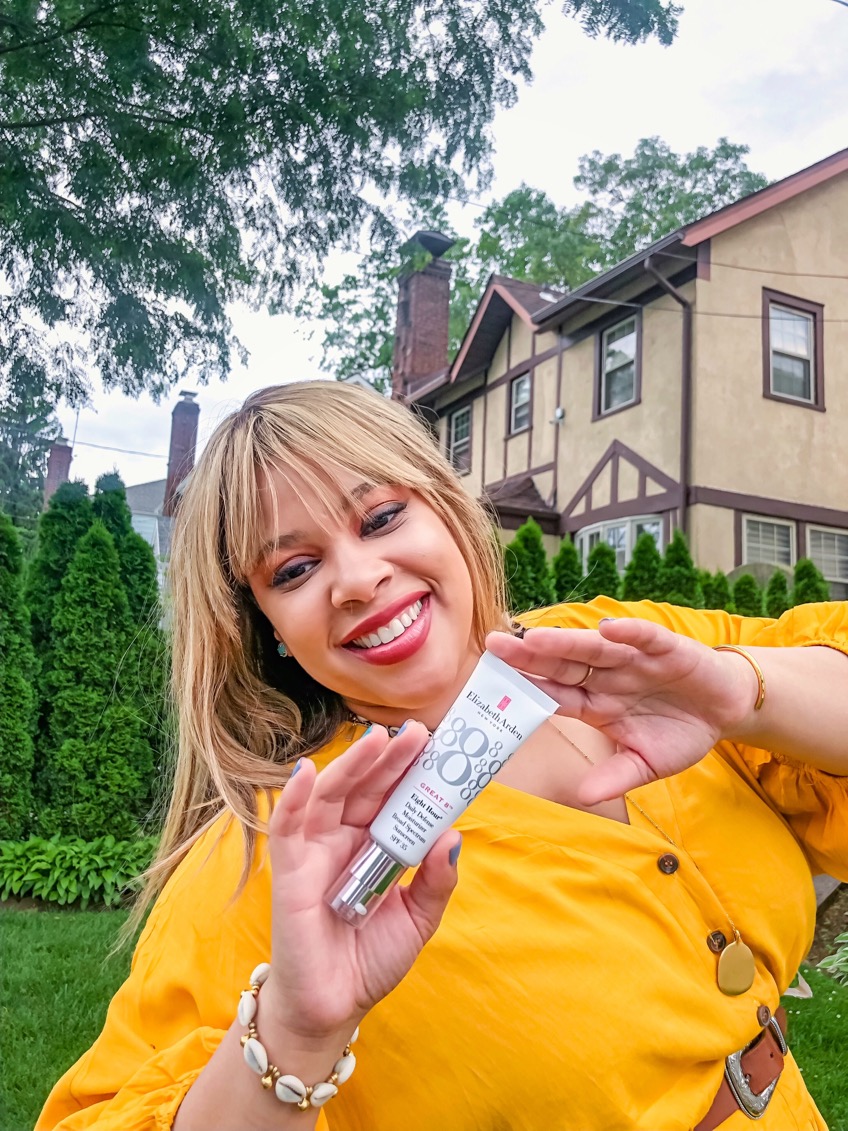 & my must-haves this season
Elizabeth Arden Eight Hour Great 8 Daily Defense Moisturizer Broad Spectrum Sunscreen SPF 35
Another product that literally fell from the heavens and covers all of my daytime skincare concerns is Elizabeth Arden's Eight Hour Great 8 Daily Defense Moisturizer Broad Spectrum Suncreen SPF 35. It actively defends my skin from UVA/UVB rays, hydrates, purifies, while combating pollution, infrared Rays, blue Light (yup that too, because hours of staring into our screens is also aging us). It also helps brighten skin tone and controls oils. Which of these benefits are important to you? Whatever it might be, I think this moisturizer will likely have us all covered!
Dermelect Lipo Conquer Toning Cream & Runway Ready Luxury Foot Cream
Lately, I've been using the Dermelect Lipo Conquer Body Toning Cream (an all-over body cream that helps achieve tightening and toning while reducing the appearance of cellulite, stretch marks and saggy skin). The key ingredients? Gingko biloba, caffeine, and vitamins A and E. Also on my beauty go-to list is Runway Ready, a luxury foot treatment which is loaded with so any beneficial ingredients such hyaluronic acid, argan oil and shea butter that instantly gives feet a feeling of TLC.
CHI Olive Organics Olive and Silk Hair and Body Oil
As summer days become longer and the more daylight there is, the more we want to go out and spend the day exploring. That's why I'm so glad I found the Olive Organics line by CHI Haircare—not only does this line serves as double duty (as a hair and body oil), but it also smells divine! It's super lightweight and boosts hair strength from the root to tips. It helps seal in shininess and prevent split ends. Pretty much, it's an all-around dreamy product that I can't do without.
What are your summer must-haves?
xo,
Greivy